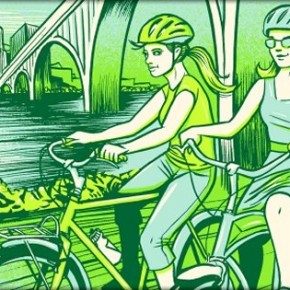 The 17th annual Saint Paul Classic Bike Tour will be held on Sunday, September 11, 2011.  A music-filled ride through Saint Paul unveils the beauty of the Capital City and celebrates our historic neighborhoods. Enjoy 15 to 39 miles of mostly traffic-free cycling. The entire course is bicycles only in the direction of travel except along Summit Avenue.
The Saint Paul Classic draws over 6,000 bicyclists, more than any other bike ride in Minnesota. It is known throughout the area for its quality. All proceeds go to support the mission-driven work of the Bicycle Alliance of Minnesota.
The Bike Classic is a great experience for riders of all stripes.  Most of the routes are closed to motorized vehicles.  In this relaxed environment, the tour winds through historic neighborhoods, beautiful parks and parkways, and along the revitalized downtown riverfront.
More information can be found on the official Bike Classic site.  In addition, a map showing the route as is winds its way across the east side can be seen here.